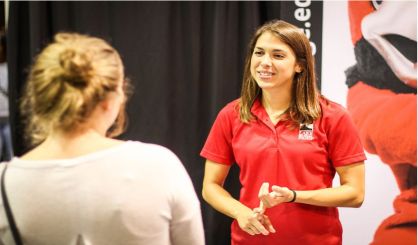 Just in time for the fall is Lake Michigan College's annual College Night, set for September 23. LMC Admissions and Recruitment Director Jeremy Schaeffer tells WSJM News it's a chance for students interested in pursuing post-secondary education to meet directly with representatives of more than 50 institutions in the region. Schaeffer says hundreds of people come out for the event.
"We see them interested in financial aid and so we do provide two financial aid sessions that evening so they can learn a little bit more about the process and what they'll need to do to apply for financial aid at any institution," Schaeffer said. "They're also interested in figuring out what programs a school might offer."
Schaeffer says everyone is welcome.
"It's typically a high school population that comes. We see anywhere from sophomores in high school to seniors being the majority of students."
The most popular tables are always those of Michigan State University, Grand Valley State University, Western Michigan University, and the University of Michigan. Schaeffer says you don't need to register to attend. College Night is at 6 p.m. on September 23 at LMC's Mendel Center at the Benton Township campus. You can find out more right here.