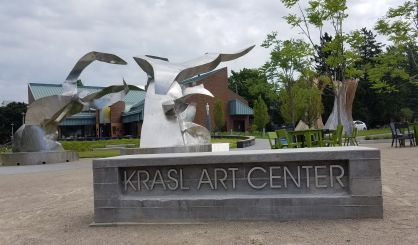 The Krasl Art Center in St. Joseph is going to hold a panel discussion on the benefits of public art installations this coming Tuesday. Krasl Marketing Manager Matthew Bizoe tells WSJM News they're going to have artists Richard Hunt and John Sauve on hand for the open discussion. He notes St. Joseph-Benton Harbor has more than 40 public art installations.
"It is an unique asset, and the Krasl Art Center has been really engaged in the public art scene in this area," Bizoe said.
Tuesday's panel discussion will be at the Krasl at 5:30 pm. and everyone is welcome. It will take place following the 5 p.m. dedication of a new sculpture at the Margaret B. Upton Arboretum in St. Joseph. That work is by John Sauve. Also, you may have seen Richard Hunt's large sculpture on the pier in St. Joseph.