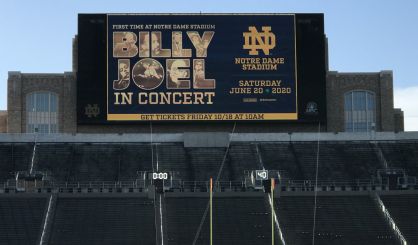 Rock and Roll Hall of Famer Billy Joel is slated to be the next artist to hold a concert at Notre Dame Stadium in South Bend. The university and LiveNation announced Joel as the just the second concert in the stadium's history on Thursday, following Garth Brooks last October. WSJM News asked Notre Dame vice president for University enterprises and events Micki Kidder how they went about deciding who would be next to perform.
"We listed a few variables," says Kidder. "One is the success and mystique is a great word for it. The values, the mystique, the mission that the University of Notre Dame represents. We wanted to ensure we were marrying that with an artist who shares similar items such as that."
Kidder adds there is another big factor – the fan base.
"What artist can fill a stadium of 45,000 to 80,000? That list is not overly long."
Unlike Brooks, who made the trip to South Bend to take part in the announcement of the stadium's inaugural concert last year, Joel was not at Notre Dame Thursday morning. Tickets go on sale next week, with a presale on Monday and available for the general public at 10 a.m. Friday through livenation.com. Ticket prices haven't been announced.