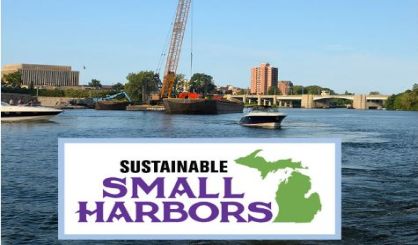 Set for Tuesday are two sessions in Benton Harbor for the public to offer its thoughts on how the harbor in St. Joseph and Benton Harbor should be improved for long-term stability. Morgan Beeler with the Michigan Department of Environment, Great Lakes, and Energy's Office of the Great Lakes tells WSJM News the state was asked to help draft a plan for the harbor at the request of local leaders following a 2015 Andrews University report.
"We got connected with the Harbor Conservancy and started working with them, and then started doing various community meetings, input sessions, focus groups," Beeler said.
Beeler says several public sessions have been held since June of 2018 to get ideas for how the harbor can be improved. Plenty of ideas have been proposed.
"Adding in some additional transient slips so that more boaters can just stop in for the day and go to the local businesses on both sides. They've also talked about the need for a community entertainment space, a gathering space."
Pedestrian bridges are another common suggestion. Beeler says after the final two meetings on the topic, the complete document on the Twin Cities Harbor Sustainability Initiative will be drafted, and from there it will be up to local leadership to pursue developments, possibly with state help. Tuesday's meetings will be held at Kinexus in Benton Harbor, one from 4 to 5:30, and the other from 7 to 8:30. Dial a Ride will provide free rides to the sessions for those who need them. You just have to call before 2:30 p.m. Tuesday.