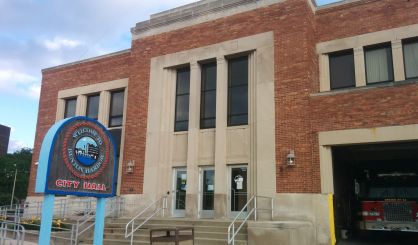 Benton Harbor City Commissioners would like to sell the city owned property at 200 Paw Paw Avenue. The problem is they're still waiting to receive a finalized sale agreement. At a Monday meeting, the finalization of the sale was on the agenda, but there was no actual resolution included in the packet. Commissioners have talked about selling the property and its unused building to medial marijuana outfit, Justice Grown, for $175,000 since June. At Monday's meeting, Mayor Marcus Muhammad wanted to know why no actual resolution to do so was provided.
"There is nothing in the packet that speaks to a resolution, nor the finalization of the sale," Muhammad said. "So that's why I asked the attorney, who would review it, 'Do you have it? Have you seen it?' The clerk don't have it, he don't have it. So how can we move forward with adopting a resolution if one doesn't exist?"
Muhammad said everyone is in agreement they want to sell the property, but the process must be done right. The city attorney said it's been slow because there's a back and forth going on regarding the price, title, other documents, and the building's condition. Mayor Muhammad told staff to get the sale finalized — with a resolution — so it can proceed soon. In the end, no action was taken.