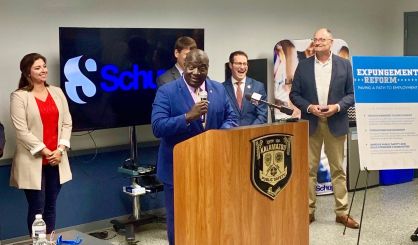 A package of bills that supporters say will make Michigan a national leader in expungement policy is headed to the state Senate following overwhelming bipartisan approval in the House. Representative Pauline Wendzel of Watervliet sponsored one of the bills, with hers focused on wiping away minor traffic offenses.
"Right now in the state of Michigan, if you had a minor traffic offense such as driving without a license, driving without insurance, or even drag racing or stealing a street sign, those go on your record the rest of your life," Wendzel tells WSJM News. "Those are not eligible to be expunged, ever."
Her bill allows for someone to petition to have those offenses removed from their record after three years, and they'd be automatically gone after five. Drunk driving offenses, however, are not included and neither are causing crashes that injure or kill others.
In comments on the House floor, Representative David LaGrand of Grand Rapids called the bills one of the most important anti-poverty votes lawmakers would take, and Representative Sherry Gay-Dagnogo of Detroit said it's estimated 133,000 people in Wayne County will be helped if the bills become law. Both LaGrand and Gay-Dagnogo are Democrats. Supporters said in many cases, old convictions are keeping people from getting good jobs and housing, even though they've turned things around and stayed out of trouble.
Photo: State Representatives Pauline Wendzel, David LaGrand, Graham Filler, and Eric Leutheuser listen as Kalamazoo Mayor Bobby Hopewell voices his support for the bipartisan criminal justice reform package unveiled in Kalamazoo.