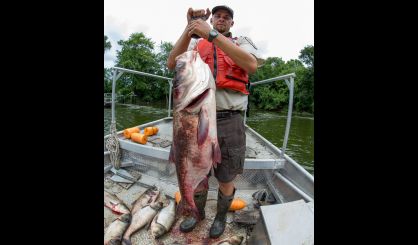 By Doug Cunningham
Alliance for the Great Lakes President and CEO Joel Brammeier is calling on Illinois Governor J.B. Pritzker to sign off on the Army Corp of Engineers plan to rebuild the Brandon Road Lock and Dam with anti-Asian carp technology. Brammeier says there's no time to lose in fighting to keep the highly destructive Asian Carp out of Lake Michigan.
"The governor of Illinois needs to sign what's called a design agreement with the federal government – the U.S. Army Corps of Engineers – in order for the feds to take the next step in designing that project," Brammeier tells WSJM News.
Brammeier says the reason there's so much concern about the Asian carp is the tremendous economic damage they can do if they get into the great lakes.
"The reason that Michigan and many other states are so concerned about these invasive Asian Carp is that they feed and breed better than any native fish in the Great Lakes. And they can hatch more than a million eggs per individual per year, which gives them the power to take over places they haven't been before."
The Michigan Department of Natural Resources this week reaffirmed the state's commitment to put $8 million into the initial stages of revamping the Brandon Road Lock and Dam in Joliet.
Photo courtesy Michigan Department of Natural Resources