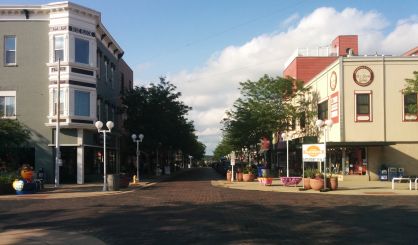 Rather significant changes are being proposed in the St. Joseph Downtown Vision Master Plan. Consultant John Houseal of Houseal and Associates met with dozens of city residents last night for the final open house to discuss the plan before it's turned over to the city's steering committee in December, laying out ideas that include redeveloping Silver Beach Hotel with the current ownership and dramatically revamping parking.
"The plan identifies existing surface parking lots that we think should be removed with new development on those lots, new development of lots elsewhere, and even the introduction of some new public parking decks," Houseal told WSJM News.
Ideas for where parking decks to be built include the Berrien County Courthouse parking lot and behind Silver Beach Hotel. Parking garages were dismissed as an idea by former City Manager Richard Lewis, noting they cost around $14,000 per space to build. Houseal says input from the community has led planners to also propose eliminating the city parking lots along Lake Boulevard across from Lake Bluff Park.
"We don't think there should be parking along that bluff. It's one of the most stunning views in the world. That view, the sunsets? You can't see that anywhere else. And you turn to the left, and all you see (are) parked cars."
The highly-detailed, 125-page plan includes ideas for new mixed use developments, pedestrian and bike access, and much more. Houseal has been working with the city on the master plan for the past year.