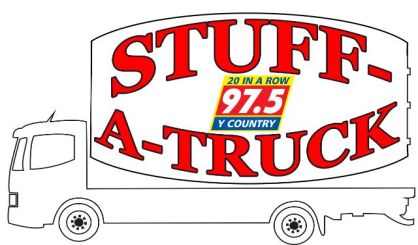 If you like helping people get through tough stretches, now is your time. All week, 97.5 Y-Country will be at Rogers Foodland at Hollywood and Glenlord collecting food and monetary donations for the annual Stuff-A-Truck event to help those who are food insecure in southwest Michigan. We asked morning show host Matt Malone about the goal for this year's collection.
"The goal we shoot for is beating whatever the previous year was," explains Malone. "Last year, we had a total of about 11 trucks and we raised over $15,000 in cash."
Everything stays local, as we work with Southwest Michigan Community Action Agency to collect the donations. The food will go right to those in need to help stock their pantries and refrigerators.
"The money is equally important, because a lot of times families have to decide whether they're going to eat, or pay the electric bill. The money that's fundraised helps them relax and not have that added pressure."
Malone adds food insecurity is more common than most might think, with one in every three people struggling with it.
"So, if you're sitting with two friends, one of you is food insecure," Malone says. "It's kind of a staggering number to think about that."
Stuff-A-Truck will run through Saturday. 97.5 Y-Country will be on site from 6 a.m. to 6 p.m. through Friday and Saturday from 9 a.m. until noon. You can also donate online at 975YCountry.com.