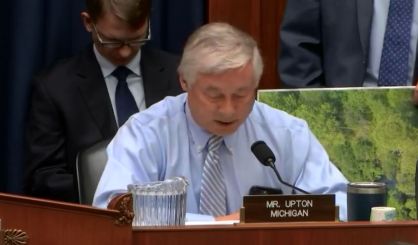 Congressman Fred Upton testified before the House Energy and Commerce Committee Tuesday in an attempt to save a pipeline safety bill. He said the new Pipeline and Hazardous Materials Safety Administration re-authorization bill is not bipartisan, pointing to previous bills that sailed through with few problems.
"For over 20 years, under divided governments we've put our differences aside and passed these bills by voice vote here in this committee," Upton said.
Upton said he'd be amending the bill to increase the Pipeline and Hazardous Materials Safety Administration's budget, adding the bill should include resources to the states for inspections.
"Abandoning our strong history of bipartisanship is irresponsible and reckless. Lives are at stake. Let's stop playing politics with pipelines. 
Upton also said the administration should be allowed to finish drafting new pipeline rules, and that the bill should require pipeline operators to be more transparent. In the end, the committee approved the bill while killing all Republican amendments.