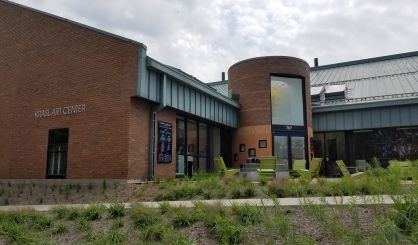 The Krasl Art Center in St. Joseph will open its latest exhibit this week. Krasl Curator Tami Miller tells WSJM News Resiliency is the latest members show.
"Anybody who is a member of the Krasl Art Center, no matter what age or what skill set they are, is able to submit one art work that they have made in the last year that addresses the theme of resiliency," Miller said.
Miller says resiliency is defined as the process of adapting well in the face of adversity, trauma, and tragedy. She says the Krasl settled on that for the theme after holding a previous exhibit focused on the topic.
"That theme really resulted from conversations that we were having with our local hospital, Spectrum Health Lakeland, who were doing a resiliency training for individuals in the community. So out of a partnership with them, we developed the previous exhibition."
Miller says studies have shown mental health is a major concern for people in the area, and art that explores resiliency strikes a chord with many residents. The kickoff party for Resiliency will be this Friday from 5:30 to 8 p.m. and the exhibit will be open through January 20. Miller says there will be dozens of works of art from young to old for the community to see. Everyone is invited to stop by and check them out.