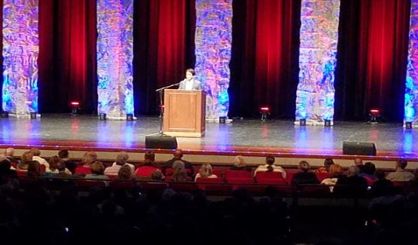 Everyone has a role when it comes to making the world a better place. So says Mitch Albom, the celebrated author, columnist, and radio host who spoke to the Economic Club of Southwestern Michigan on Monday night.
Albom told the story of Chika, a girl he and his wife took in from Haiti. Chika was just two when her mother died and she wound up at an orphanage Albom started helping to run after the 2010 earthquake. She came to Michigan to live with Albom at the age of five when she developed neurological symptoms that turned out to be from a disease called DIPG.
The doctors expected Chika to live just four or five months, but Albom and his wife fought along her side through radiation treatments, surgeries, and more for two years before Chika died at seven.
Throughout his time living with Chika, Albom said she taught him things he'd never imagined. He said she taught him that when you think you're pressed for time, there is always time. She also taught him to appreciate the happiness you have in the moment, and that you're never too old to become a family. Albom said it's "only in witnessing the final moments of a life that you realize and truly appreciate the indescribable, magnificent blessing that being alive is."
Albom told the crowd it's everyone's job to stand up for kids like Chika, to help poor kids and sick kids, and to push for more research and treatment for rare illnesses. Albom's new book, Finding Chika, is all about his experiences with her and the things she taught him. Other books Albom has written include Tuesdays With Morrie, The First Phone Call from Heaven, Have A Little Faith, and The Five People You Meet in Heaven.
The next speaker at the Economic Club of Southwestern Michigan will be Malcolm Turnbull, the 29th Prime Minister of Australia, on March 18.