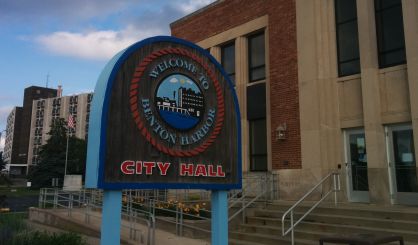 The Benton Harbor Downtown Development Authority has its eye on a partially foreclosed condo complex on Riverview Drive. According to The Herald Palladium, the DDA met this week and voted to express an interest in the New Harbor Condominiums. 43 out of the complex's 90 units are in the hands of the Berrien County Land Bank since April's foreclosure. Berrien County Treasurer Bret Witkowski tells WSJM News the Benton Harbor DDA has indicated an interest in developing the dilapidated condos.
"They talked about it at their meeting, I think last month, and came and talked to our land bank at the December meeting, and there were positive feelings about having the land bank acquire those 43 parcels," Witkowski said.
The county can't do much with the condo complex because it only owns about half of the place. Witkowski says there are around four to seven other owners, some of whom will face foreclosure soon. He says the DDA could acquire those units first and then use other legal means to acquire the rest. Then could begin the effort to develop the property.
"They have the ability to do that whereas we don't, and that's where they as the DDA working with the city commission, they'll have to work together to make it come about."
Witkowski says he knows members of the DDA are travelling to Ottawa County soon to learn more about a similar project that was done there. In the meantime, the New Harbor Condos have been condemned by the city. Owners are now in the appeals period.