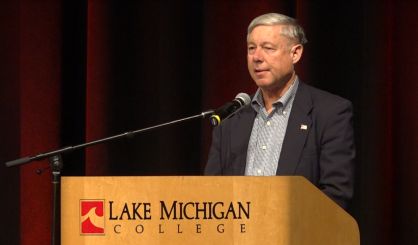 The US House has approved a resolution asserting that President Trump must seek approval from Congress before engaging in further military action against Iran. The war powers resolution is not binding on Trump and would not require his signature. But House Speaker Nancy Pelosi nonetheless insists it "has real teeth" because "it is a statement of the Congress of the United States."
Congressman Fred Upton was among the 194 "no" votes. In a statement, he says he agrees for the need to have "a substantive discussion on War Powers and the balance between the President's authority to address imminent threats and Congress' constitutional responsibility to declare war, but we should not play politics with our nation's security." In Toledo last night at a rally, Trump said had he informed Congress of the plans for the attack that killed Iran's top general in Iraq, Democrats would have leaked it.
The Associated Press contributed to this report.