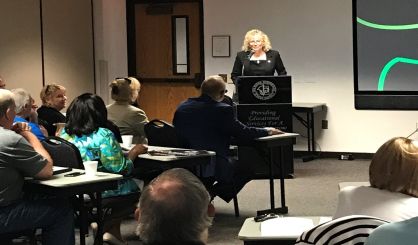 State Representative Beth Griffin says she's fighting to restore a $200,000 downtown facade improvement grant for the village of Paw Paw. She says the funds from the Michigan Economic Development Corporation were cut off when the governor and state Legislature had an impasse over the state budget last year. The governor had line item vetoed nearly $1 billion in spending approved by the Legislature, much of which was later restored. Griffin tells WSJM News the grant for Paw Paw remains held up.
"The village of Paw Paw worked really hard on this to apply for that grant, and I do believe that with continued pressure we'll be able to restore it," Griffin said.
Griffin calls the delay with the grant "a slap in the face to the people of Southwest Michigan." She thinks the governor is missing something.
"There are needs in southwest Michigan, just like there are needs in Detroit, and I feel that in Van Buren County we were given the short end of the stick with this, and I will continue to fight for our priorities."
Griffin says the grant for Paw Paw is just one of many things that fell by the wayside during the budget negotiations. She plans to invite Paw Paw community leaders to the governor's State of the State address on January 29.