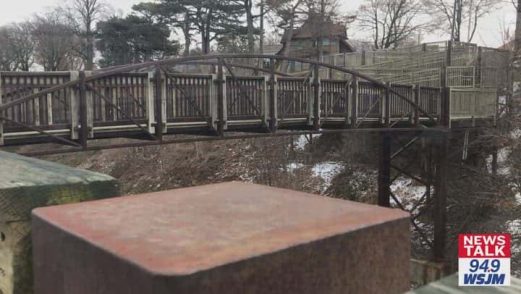 Repairs need to be made to the Howard Family Trail Bridge in the city of St. Joseph. The bridge goes over the CSX railroad tracks, and Parks and Grounds deputy director Greg Grothous  told city commissioners this week a biennial inspection found corrosion and rust caused by city staff putting salt on the bridge years ago.
"The use of the salt accelerates the rusting process and penetrates the rust protection layer on the steel, which is designed to show the rust," said Grothous. "But the salt has sped that up and we're seeing chunks of rust actually coming off the steel structure."
The salt was put on the bridge for pedestrian safety, but Grothous says it never should have been used on the structure.
"While the project seemed to be pretty popular among contractors, ultimately we only had one bid submitted from Anlaan Corporation of Grand Haven," Grothous added.
Anlaan also built the bridge in 2002. The city commission approved the $156,500 contract for the repairs. The work will close the bridge starting on March 2, with an expected completion on or before June 1.