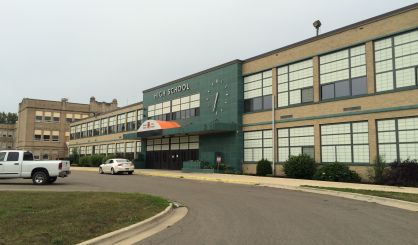 The Benton Harbor Tiger Marching Band has received a grant from the school district's food service provider. At Tuesday's meeting of the Benton Harbor Area Schools Board of Education, Sudexo representative Peju Makinde announced the grant was for Benton Harbor High School's participation in the Healthy High School Challenge.
"At the start of the school year the high school participated in the Healthy High School Challenge," Makinde said. "This provided us with the opportunity to compete, have fun, and promote healthy eating. At the end of the challenge, the high placed 27th out of 100 high schools that participated."
Makinde then handed off a $500 check to Band Director Ron Evans. School board members thanked Evans for his efforts to keep students engaged in something positive. Also at Tuesday's meeting, the board heard from district graduate Darryl Jackson, who asked that the name of former basketball Coach Paul Wilhite be put in on the gym floor to honor him. Board President Joseph Taylor said the body could consider a resolution to honor Wilhite as a mentor to students.