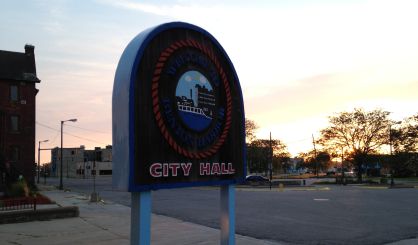 Benton Harbor City Commissioners have heard about an excessive force complaint regarding a public safety officer. Gwen Swanigan of the anti-police abuse group, the SHARP Foundation, told commissioners at a Tuesday meeting that Public Safety Officer Drew Wagner punched a suspect who had run from him on December 28. Wagner pulled over 27-year-old Michael Thompson at May Street Market at 131 East May when the officer noticed Thompson didn't have a registered plate. According to the police report, when Thompson ran from Officer Wagner, Wagner fired a taser at him twice and then tackled him. At Tuesday's meeting, Swanigan said the way Thompson was treated was uncalled for.
"He didn't deserve that he got, not at all," Swanigan said. "For someone to say that it was justified, it wasn't."
Thompson's mother, Michelle Evans, also spoke.
"He didn't deserve to be hit. Once he was down, he wasn't a threat to anybody."
Those speaking for Thompson want Wagner suspended. Benton Harbor Director of Public Safety Dan McGinnis says Wagner's use of force was not excessive, as he says Thompson was still struggling even after being hit with the taser twice. Mayor Marcus Muhammad promised those at Tuesday's meeting that the city "most definitely will address the matter swiftly."
"I just would ask that the process be respected. I do have confidence that it will be looked at…because I'm going to see to it that the matter be examined carefully."
Muhammad added this can be a learning opportunity because "there is a responsibility on the citizen and the resident, but there's also a responsibility on staff and public safety, and when we work together and we all obey the law, then that's when we have a peaceful and safe community to live in." Muhammad said the investigation will be done by the city manager and public safety officials.