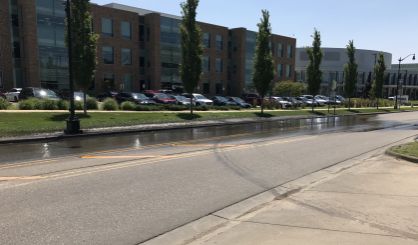 Efforts to figure out how to fix the chronic flooding problem on Main Street in Benton Harbor by the Whirlpool Riverview Campus will result in the street being closed Thursday starting at 9 a.m. The Michigan Department of Transportation is going to have the road closed between the Bicentennial Bridge and Riverview Drive for crews to perform surveying and inspection for a project design.
The flooding is due to the high water level of both Lake Michigan and the St. Joseph River, with the drains on the road in that section being lower than the current water level. The closure is expected to last several hours until early tomorrow afternoon, and a detour will be posted.
Image is from flooding along that stretch of Main Street, or the I-94 Business Loop, in July 2019.