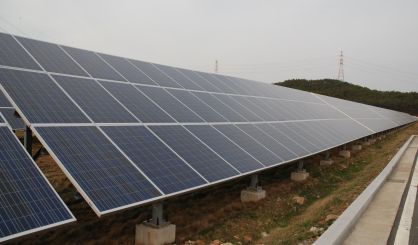 Indiana Michigan Power has received approval from the Indiana Utility Regulatory Commission to build a new solar facility in St. Joseph County, Indiana. I&M spokesperson Schnee Garrett tells WSJM News it will be located near Granger.
"it will be located near the Indiana Toll Road near Bittersweet Road in St. Joseph County," Garrett said. "The solar facility will have a capacity of 20 megawatts, and that's enough energy to power 2,700 homes annually."
Compare that to I&M's current solar facilities in Watervliet, Marion, Mishawaka, and New Carlisle. Together, they generate about 15 megawatts of electricity. So, this new one will more than double I&M's solar output.
"The solar facility will allow I&M customers in the entire Michiana area to take advantage of local green resources and assist local economic development efforts to help attract businesses that are interested in renewable energy options."
Garrett says work on the new $30 million facility will start in April and likely be done by the fall. I&M will collaborate on the project with the University of Notre Dame. Notre Dame will use it for education and research. Garrett says this project comes as I&M works to increase its use of green energy sources.