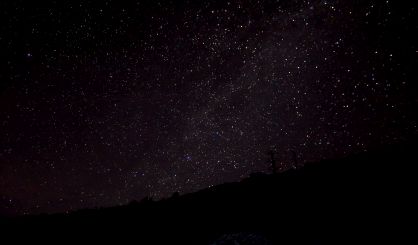 A contest to find a new logo for the Dr. Lawless International Dark-Sky Park is underway in Cass County. The Cass County Parks Department says Lawless Park got the Dark Sky designation from the International Dark Sky Association earlier this year thanks to its excellent star gazing. Parks Director Scott Wyman told WSJM News at the time it was exciting to see the attraction about nine miles from Cassopolis be recognized as one of just two Dark Sky parks in Michigan.
"We always knew that we were a great place to view the stars," Wyman said. "The Michiana Astronomical Society for many years has held their annual meeting at Dr. T.K. Lawless Park."
Now the parks department is hoping local artists will submit original work to serve as the logo for the park. They're looking for simple designs that will be identifiable on T-shirts, cups, caps, and other items to be marketed. The deadline to submit a logo is March 10. Below are the contest rules.
Contest Rules:
1. Design must be original.
2. No copyrighted material.
3. Must include a signed release that design will become the property of the Cass County Parks and Recreation Department, and as such may be modified.
4. Must represent the Dark-Sky theme.
5. Prefer the artwork to be black and white.
6. No larger than what will fit on an 8 ½ x 11-inch sheet.
7. Final determination will be made by the Cass County Parks and Recreation Department, who also reserves the right to decline selection of any submitted artwork.
8. Winner recognition at the grand dark-Sky celebration April 25, 2020.
9. Deadline for entries: March 10, 2020 at 5:00 p.m. Submissions may be made by email to: pattyd@cassco.org. Address for dropping them off or mailing is: Cass County Parks Department, 120 N Broadway, Suite 200, Cassopolis, MI 49031.
Scott Wyman, Cass County Parks Director states, "The contest rules are really very simple, and we are looking forward to see what the community comes up with. We have so many talented and creative people in our area, we hope they want to be part of this international opportunity."