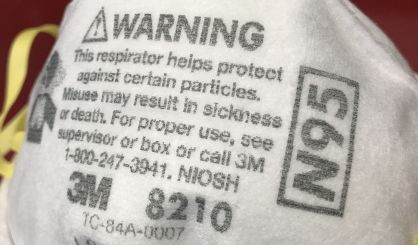 Bronson Healthcare is turning to the public to help meet its needs at its southwest Michigan hospitals and offices. Starting Monday, Bronson will be collecting items at five of its sites in Battle Creek, Kalamazoo, Paw Paw, Portage, and South Haven. They are in need of disposable face masks; N95 masks, also called respirators; eye protection like safety goggles and face shields; disposable gowns, gloves, surgical caps, and foot covers; antimicrobial or bleach wipes; hand sanitizer, and bleach. Bronson is also accepting home-sewn face masks which will be used by staff in appropriate areas to conserve the supply of personal protective equipment. The donations will be accepted from 1 to 4 p.m. Monday through Friday. Bronson is not taking donations of medication, blankets, toys, clothes, or any other medical supplies.
All donations must be dropped off in-person. Items that list expiration dates must be unexpired. It is essential that nobody involved in the creation, distribution or delivery of new/unused materials or homemade masks have any symptoms of COVID-19 (fever, cough, shortness of breath) or have recently been exposed to anyone experiencing these symptoms or who has been tested positive for COVID-19.
Bronson will be collecting the acceptable new/unused items from businesses, organizations and community members at the following five locations Monday through Friday, 1 p.m. to 4 p.m.:
• Battle Creek: Bronson Urology Specialists, 4441 Capital Avenue Southwest
• Kalamazoo: Bronson FastCare®, 6220 W. Main St.
• Paw Paw: Bronson LakeView Outpatient Center, 451 Health Parkway
• Portage: Bronson Diagnostics at Woodbridge, 2640 W. Centre St.
• South Haven: Bronson Family Medicine, 930 Blue Star Highway