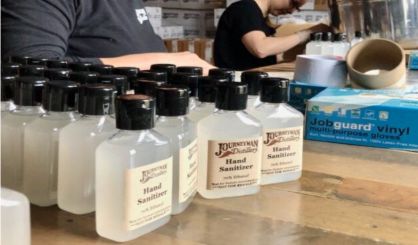 Distilleries around Michigan are stepping forward to produce hand sanitizer in response to the COVID-19 crisis. Among them is Journeyman Distillery in Three Oaks, which started making the hot commodity last month. Journeyman accountant Ray Barskus tells WSJM News they're in a good position to do so because distilleries produce ethanol, which is the primary ingredient in many hand sanitizers. Barskus says Journeyman started to produce its own sanitizer not long after the governor ordered restaurant dining areas closed.
"A couple of days later, our phones started to ring a lot with people inquiring about whether we were making hand sanitizer because there was news out nationally that distillers like us were given a short window of permission," Barskus said.
Barskus says there's quite a demand out there for hand sanitizer.
"We have taken orders now for approximately 8,000 gallons of sanitizer. We've filled orders for about 3,000 gallons so far. We've sourced all of the materials and have a production schedule in place to right now put out at least 10,000 gallons."
Barskus says the sanitizer comes in 1.75 liter containers and drums. He notes there is a backlog of orders, so if you order from them, it may be a couple of weeks before your supply is ready. They can ship it to you, or you can pick it up. However, Barskus says the shipping can be rather pricey.