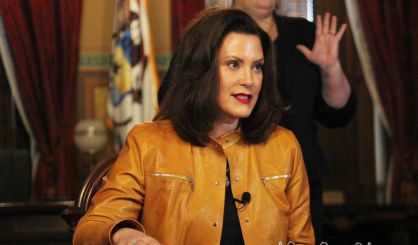 Governor Gretchen Whitmer is downplaying the political sparring that's happened over the past few weeks with President Trump not remembering her name during press conferences when he's said he's told Vice President Pence to not call "that woman in Michigan." Whitmer said Monday morning she spoke directly with the President on Thursday and talked with Pence both Saturday and Sunday.
"The bipartisan congressional delegation that we have has been fantastic. Fred Upton is one of the people I talk to the most, he's the ranking Republican in our delegation, as well as our two U.S. senators" said Whitmer. "We've gotten a lot, I think, accomplished in building a good relationship."
She said the Vice President's background having been governor of Indiana has been a very good help for working with governors around the country to get states what they need to battle COVID-19. Whitmer added she tries not to focus on the noise being generated on Twitter, though she has at times issued a few responses on there.