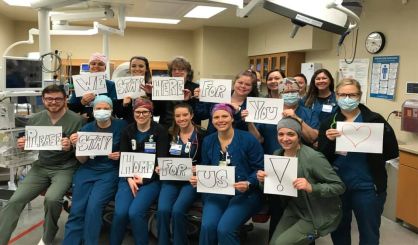 Spectrum Health Lakeland is thanking those in the community who have shown support for the hospital and its staff during the COVID-19 pandemic. Spectrum Health Lakeland VP of Philanthropy Brandi Smith tells WSJM News some big donations have come in. For example, there's been help from Whirlpool.
"Whirlpool has been tremendous," Smith said. "They've donated a large supply of hand sanitizer, hand soap, and more than 100,000 medical gloves. Also, Lakeshore Public Schools has loaned us 150 iPads to use in telehealth visits."
Spectrum Health Lakeland has also received a $25,000 donation from The Wood Foundation in support of COVID-19 response. Smith says that's not to mention continued donations of medical supplies at the drop-off site at Lakeland at Meadowbrook from the public. She says the current situation is tragic but bringing out the best in the community. Spectrum Health Lakeland has a page on its website listing all of the ways people can help.