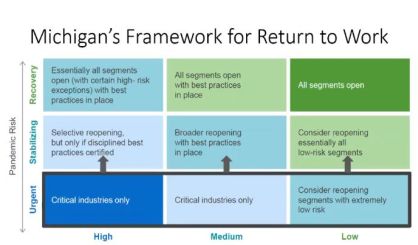 The Berrien County Health Department is thinking about how to proceed once things start to open up after the COVID-19 shutdown. Health Officer Nicki Britten told the Berrien County Board of Commissioners this week officials have been asking themselves several questions.
"Is it time to be reopening, and as we are reopening, how is transmission going in? Where are we at, and how do those dials need to be tweaked?"
Britten said contact tracing will have to continue once some things open, noting the county has been able to identify most of its COVID-19 cases through that tracing. As for the situation right now, she says the pace of new cases is fairly steady.
"I wouldn't say we're seeing a decreasing trend on any of these, but we're seeing a flat trend. Some of these never really took off into that really steep increase because the social distancing measures took place so early in disease transmission here in Berrien County."
Britten said Spectrum Health Lakeland has plenty of ICU space, and has not come close to exceeding capacity. As the Berrien County Health Department starts to offer its usual services again, it may need more resources to continue contact tracing and mitigation of COVID-19.