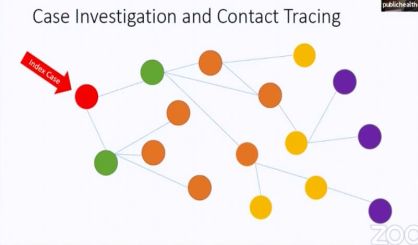 Berrien County Health Officer Nicki Britten says contact tracing is a key way the area can stamp out lines of COVID-19 transmission. She gave an update to the Berrien County Board of Health this week, saying the local health department has made around 8,000 phone calls throughout the pandemic as it tracks down people who have had close contact with others who have COVID-19. She noted the stay home order has helped.
"Back in March before that order was fully implemented, some of the cases were having 20, 25 close contracts because it was before social distancing measures were really in place," Britten said. "Once the order were in place and there was much more social distancing, it was generally only four or five people and they tended to be in the same household, or if it was an essential worker, their coworkers."
Britten said when the department finds a close contact of an infected person, it works to get that contact tested quickly. The person is also told to isolate themselves. The Berrien County Health Department has had about nine workers doing all of that contact tracing, but Britten said they will need more, especially once the department starts providing other services again. She expects they'll need to hire three to five temporary contact tracers.