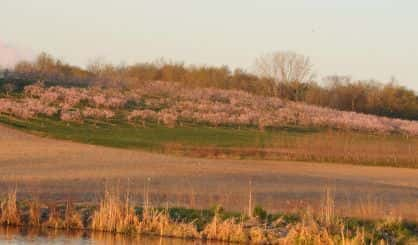 A freeze over the weekend could mean damage to some of the area's fruit crops. Michigan State University Extension's Mark Longstroth from the Van Buren County office says the coldest temperatures were along I-94 between Benton Harbor and Kalamazoo.
"Temperatures recorded in that area were from 20 to 26 degrees," says Longstroth. "Areas close to Lake Michigan didn't get quite as cold, and it looks like southern Berrien County didn't get as cold as northern Berrien and Van Buren counties."
Longstroth says temperatures between 25 and 28 degrees will typically cause damage.
"We can look at the numbers and say that was cold enough to hurt, but it's not until we go out and look at multiple vineyards and orchards and fields of blueberries and strawberries and look at the state of the flowers that you can say it was really bad here, and it wasn't so bad there."
He says from what he saw on Sunday, grapes came through the freeze remarkably well, but Longstroth says the full extent of the damage should take a few days to be known.