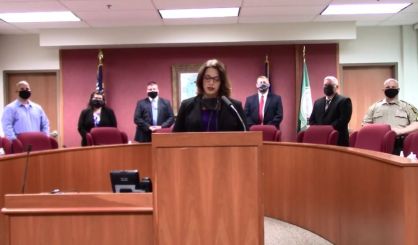 Prosecutors in Allegan County say charges have been filed in a 31-year-old cold case murder. 14-year-old Aundria Michelle Bowman was reported missing as a runaway from her home in Fillmore Township on March 11, 1989. Several police agencies have worked since then to find her. Allegan County Prosecutor Myrene Koch said Friday a break came in the fall of last year when Dennis Lee Bowman, Aundria's adoptive father, was taken into custody in Michigan for a murder in Virginia in 1980. He was extradited from Michigan to that state, and then new information regarding Aundria Bowman came in this year.
"On February 4, 2020, new information led law enforcement to a shallow grave in Allegan County where skeletal remains were found," Koch said. "After extensive medical and forensic testing by WMED Forensic Pathology and Michigan State University Forensic Biology Laboratory, those remains have been positively identified as Aundria Michelle Bowman."
Koch said Dennis Bowman has now been charged with murder, first degree child abuse, and mutilation of a body. He faces life in prison and will be extradited back to Michigan. Koch told Aundria Bowman's family this is the first step in seeking justice for her.