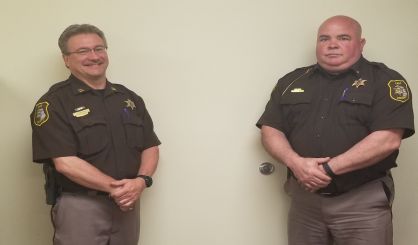 Two first responders from the Cass County Sheriff's Department have given back to the community during the COVID-19 crisis by donating plasma. Road Patrol Captain Thomas Jacobs and Undersheriff Clinton Roach both contracted coronavirus in mid March around the start of the epidemic in southwest Michigan. Jacobs tells WSJM News their cases were quite different.
"I had a real hard time breathing, my oxygen levels became so low," Jacobs said. "He had all of the symptoms of the flu with fever and body aches and pains, like I did, but his were more mild."
Jacobs had to be hospitalized for five days and says he's thankful he's recovered. When both Jacobs and Roach had tested negative after their illnesses, they were asked if they would like to donate plasma to treat others.
"We were told by the health department that we may be able to provide antibodies in our plasma that would help others who had contracted the virus."
The two agreed and donated their plasma with the help of the Van Buren-Cass District Health Department. Jacobs says it's a silver lining of the whole experience.
"I think it's important that if we can help save lives, that we give back, and we're both working on doing that."
Jacobs suspects he and Roach will make additional donations. Jacobs says the two may have gotten the illness during a meeting at the county administration building before everyone was mindful of social distancing. He was the first confirmed case of COVID-19 in Cass County.
Comments