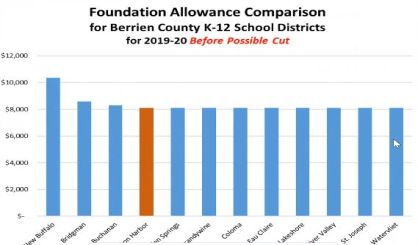 Leaders at Benton Harbor Area Schools are working on a budget for the coming year, although they say it will likely have to be changed as more information on funding comes in from the state. District Finance Director Scott Johnson told the board of education on Tuesday significant cuts are expected in state aid due to COVID-19.
"Consequently, our budget to actual variance between the 2019 and 2020 general fund budget and the actual results may be relatively high this year, and also the 2020-2021 budget may require significant revision after the state aid amounts are determined and after the fall pupil count is completed," Johnson said.
Johnson said more will be known from the state in the fall. In the meantime, he estimated a $500 per student decrease in funding and a drop of 50 students. Johnson said other unknowns like the enrollment numbers in the fall and COVID safety measures make budgeting difficult. He will present the school board with a revised budget for this year and the proposal for next year at a meeting next week.