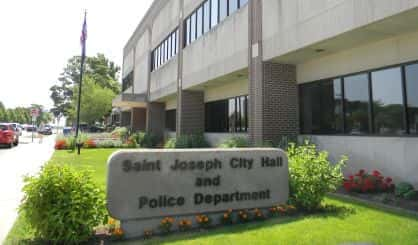 How can the city of St. Joseph fight institutional racism and promote social justice? That was the topic of discussion at a Monday meeting of the city commission and public. The meeting came as the city responds to the death of George Floyd and others at the hands of police. Among those to speak to commissioners was Rayone Bell, who said there's a perception problem for St. Joseph across the river.
"People in Benton Harbor don't feel safe and don't feel welcome in St. Joe, and that is a real issue," Bell said.
Mayor Pro Tem Laura Goos pointed to the "eight that can't wait," policies being recommended for police following Floyd's killing. City Manager John Hodgson commented.
"I understand that we already had seven of them solidly in place," Hodgson said. "The eighth was a duty to intervene, which we do feel was covered by other things, just your general duty as an officer to prevent harm from taking place, but we do have a draft policy on duty to intervene."
Other policies include a ban on choke holds, a de-escalation requirement, the requirement of a warning before shots are fired, and a ban on shooting at moving vehicles. Monday's meeting was led by City Commissioner Lynn Todman, who said there will be more. Suggestions for how St. Joe can promote social justice can be sent to SocialJustice@SJCity.org.