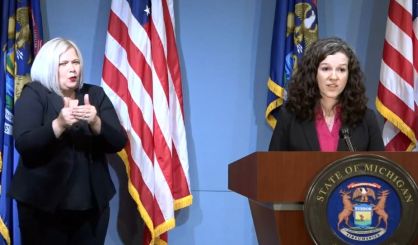 Governor Gretchen Whitmer's MI Safe Schools Roadmap has been released, directing school districts throughout the state to draw up their own back to school plans with local conditions and local health departments as their guide. She was joined by Berrien County Health Officer Nicole Britten, who was part of the state's Return to School Advisory Council. Britten talked about the development of the return to school plan.
"The Return to Schools Advisory Council prioritized what the scientific data tells us about both reducing COVID transmission risk and the holistic needs of our children for their social, emotional, and intellectual growth, which are typically met in school," Britten said.
Britten said there will be no one size fits all plan for a return to the classroom.
"Local health departments like mine will be working very closely with school leadership to implement the bets plans for students, school staff, and broader communities."
The governor's executive order requires school districts to adopt a COVID-19 Preparedness and Response Plan laying out how they will protect students and educators across the various phases of the Michigan Safe Start Plan. The safety protocols detailed in the MI Safe Schools Roadmap includes guidance on the use of PPE, hygiene, disinfecting, spacing, screenings, athletics, and more.