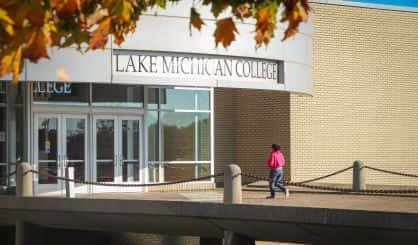 Lake Michigan College has announced its plan to resume classes in the fall. LMC has released the following statement:
It has been nearly four months since the COVID-19 pandemic has changed how we go about our day-to-day lives. In that time, Lake Michigan College has listened to its employees, its community, and first-and-foremost, its students, to make pursuing higher education more accessible and more affordable than ever.
For the Fall 2020 semester, Lake Michigan College will discount tuition by 10 percent for all degree-seeking students. The 10 percent discount will be automatically adjusted to each student's fall tuition bill and reimbursements processed to those who have already paid.
"Families are struggling right now with unemployment and other financial challenges due to COVID-19," LMC President Dr. Trevor A. Kubatzke said. "We felt it was important to do whatever we could to make sure that our community has access to a college education. Students shouldn't have to put their futures on hold because of this pandemic."
The Fall 2020 semester begins Tuesday, Sept. 8, with a variety of delivery options. Students can study online in their own time, and/or participate in scheduled classes where they interact with professors and classmates via webcam. Classes that require hands-on learning that cannot be delivered remotely will have limited in-person instruction and follow safety guidelines. 
"We designed our fall semester to ensure the health and safety of our students and employees, while also providing high-quality learning experiences," LMC Provost and Vice President, Academic Affairs Dr. Leslie Kellogg said. "We listened to our students' concerns and worked with our faculty to create a flexible, safe and effective plan to help students achieve their educational goals."
We are developing five course delivery options for Fall 2020, which are:
FLEXIBLE LEARNING ENVIRONMENT (FLE): These offer the most flexibility for students. Students may choose to interact with their instructor and classmates by webcam during regularly scheduled class sessions or watch recorded class sessions online at a time that is convenient for them. 
ONLINE: All instruction will be delivered online. There are no scheduled class sessions.
REMOTE: All class session will be held remotely by webcam on scheduled days and times.
HYBRID/REMOTE: A significant portion of instruction will be delivered online with some remote class sessions by webcam required on scheduled days and times. 
HYBRID/FACE-TO-FACE: A significant portion of instruction will be delivered online. There also will be some on-campus, face-to-face class sessions required for hands-on learning that cannot be completed online. On-campus class sessions will be scheduled in small groups following safety protocols that minimize risks to the greatest degree possible. Programs and disciplines requiring some hands-on learning include Advanced Manufacturing, Computer Networking, Criminal Justice, Culinary, Health Sciences, Natural Sciences, Visual & Performing Arts, and Wine and Viticulture Technology.
LMC's campuses reopen to the public on Monday, July 13, with in-person services for current and prospective students. Remote services will also continue to be available.
All seven intercollegiate athletic teams are also planning to resume beginning with the Fall season, and plans are being finalized to reopen Beckwith Hall with reduced capacity
"We are all eager to reopen our campuses for the Fall 2020 semester, but we will do so with the health and safety of our students, employees and community as our top priority," Kubatzke said.
To decrease the risk of spreading the COVID-19 virus, everyone on campus must practice social distancing by keeping at least 6 feet of space between each other. A daily symptom check at the front entrance of each campus and masks will be required for everyone entering campus facilities. More information regarding LMC's safety protocols can be found at www.lakemichigancollege.edu/covid19.
For details on the Fall class delivery options, visit www.lakemichigancollege.edu/flexible. To apply for free for the Fall semester, visit www.lakemichigancollege.edu.