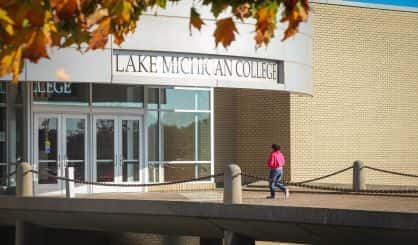 Lake Michigan College's fall reopening plan was drafted with flexibility in mind. So says LMC Vice President of Academic Affairs Leslie Kellogg. She tells WSJM News the college will have five class types when the fall semester begins. They are flexible learning, all online, remote courses via webcam, hybrid remote and online, and hybrid face to face with some on-campus work in small groups and more online.
"Our goal was to try to make our course offerings as flexible as possible to meet the needs of our students, but also allow us to be adaptable, to offer more face to face instruction if it's possible, but to also be able to transition to more remote teaching and learning if there's, for example, another spike or another stay at home order," Kellogg said.
Kellogg says LMC is spending the summer training faculty on how to use distance instruction effectively. It's not that the campus will be closed, though.
"We'll also have the campus open following safety protocols so that students have access to technology that they don't have at home."
Kellogg says those who go to campus will be screened and be required to wear masks. There will be social distancing markers on the floors and directional hallways. Plans to get sports rolling again are in the works, as are plans for the residence halls. Kellogg says those will operate with a reduced capacity. She also notes LMC is refunding 10% of student tuition to help out during the difficult economic time. Students will automatically get those refunds.