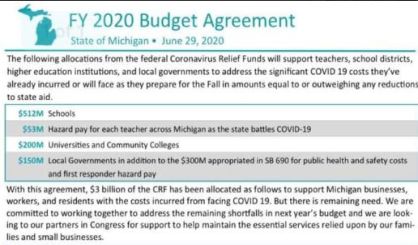 The budget deal announced this week by Governor Gretchen Whitmer and state legislative leaders is a good start. So says state Representative Beth Griffin of Mattawan, who tells WSJM News the plan uses federal coronavirus relief money to plug a large budget hole.
"Overall, we've got $3.1 billion as – I guess you could consider it as a patch – in the current budget to address the shortfalls that have happened since COVID-19, and the agreement does call for about $490 million in savings through discretionary spending cuts and hiring freezes, layoffs, and things similar to that," Griffin said.
Griffin says the loss in funding faced by several sectors will be softened.
"There is some significant investment in schools, $512 million, and of course it's needed. There's support also to universities and colleges, $350 million to support local governments, and $150 million to support businesses."
Griffin says both sides worked cohesively in a bipartisan manner to preserve funding for what matters most to Michigan families, focusing on schools and funding for local government services. She adds she's glad government leaders were able to reach an agreement during a time of high political division. Now she says the Legislature has to get to work on next year's budget.