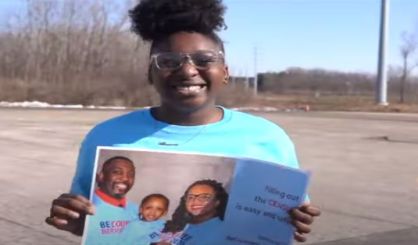 A music video produced in Benton Harbor and highlighting the importance of filling out the census is among the finalists in a national competition. The U.S. Census Bureau's the Get Out the Count Video Prize Competition received 750 submissions from around the country, including the Be Counted Berrien video produced by Traci Burton, the community engagement specialist for Benton Harbor Area Schools.
Burton tells WSJM News the song was written by Serenity Burton, a 2020 high school graduate and her sister. She's glad the video could help to clear up misconceptions about young people via the contest.
"We didn't enter thinking that we were going to be finalists," Burton said. "We just knew that we had something amazing to share. To actually see it recognized nationally was definitely an honor."
Burton also worked on the Get Up video that went viral last year. The census rap highlights the importance of being counted for better schools, Medicare, Medicaid, school lunches, roads, and other programs funded based on Census data. Burton urges everyone to fill out their census so Berrien County doesn't lose out on important funding due to an undercount.