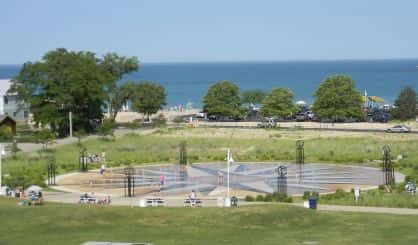 The city of St. Joseph will reopen the Whirlpool Compass Fountain this week. St. Joe Public Works Deputy Director Greg Grothous tells WSJM News they've determined it can be done safely.
"We consulted with the Berrien County Health Department in regards to its opening," Grothouse said. "They said it would be OK to open, but their recommendation was that we turn the eight large cannons off."
Grothous says the eight large cannons often attract large groups of kids to the center of the fountain so they can be blasted with water.
"We will be shutting the cannons off. Those will not operate. It'll just be the 36 or so ground jets that will operate consistently. We encourage people to socially distance, and we also encourage people to keep their visits short so that other people may enjoy it and we don't get too large gatherings."
The fountain below the bluff will be turned on at 10 a.m. Thursday. The hours of operation for the Whirlpool Compass Fountain will be 10 a.m. to 9 p.m. each day. Grothous notes the operation of the fountain can be adjusted according to how things go.